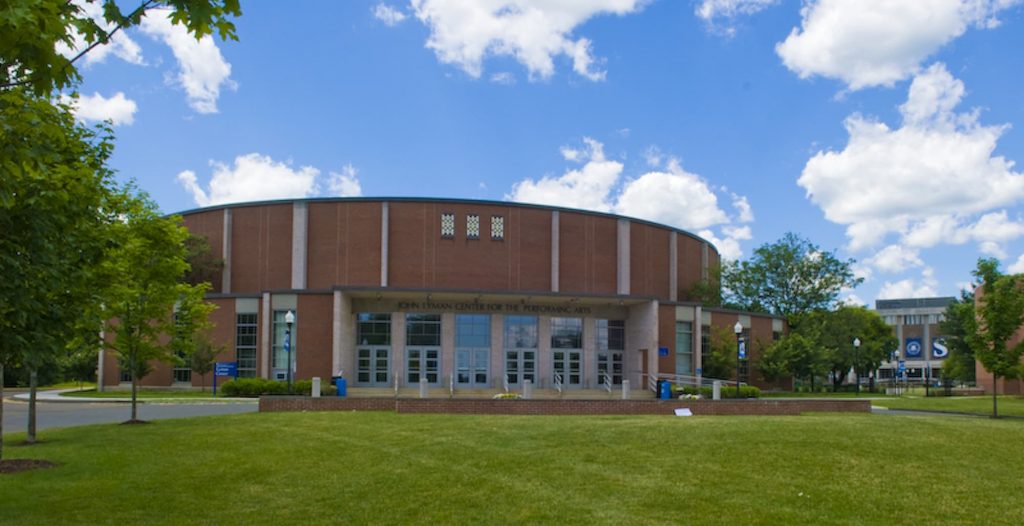 Lyman Center for the Performing Arts
John Lyman Center for the Performing Arts is a multi-use performing arts facility consisting of two performing spaces and a lobby art gallery. It is also home to the Department of Theatre with its costume and scenery shops. 
The most familiar part of the Center is the 1,500 fixed seat mainstage auditorium. This auditorium's capacity makes it similar in size to major area performing arts centers. 
The most distinctive feature of the mainstage is its three-quarter thrust stage design. The semicircle seating configuration allows all seats in the theater to be very close to the stage. The front main sections only have 10 rows and the upper section back row is only 20 rows from the stage. The theatrical lighting system of the mainstage is also impressive. A fully computerized system using state-of-the-art technology controls the output of over 500 instruments that are partially hidden in the ceiling behind a tension-wire grid. The stage lighting alone is operated with a power supply of more than 25 times that of typical household electrical service. 
Located on the 1st floor of the Lyman Center, the Main Stage features a beautiful thrust stage with fixed theatre style.
Specifications:
Seating capacity: 1,565
600-800 set-up
Technology: available
Main Stage Lobby
Guest Box Office
Green Room
2 Large Dressing Rooms
Ideal For:
Concerts
Shows
Graduation Ceremonies
Located at the entrance of the Main Stage, the Lobby features an art gallery and can be used as a receptions area and rented separately from the main stage to accommodate receptions.
Specifications:
Located on the 1st floor of the Lyman Center is an experimental black box theatre that can be set up in a number of different theatre style seating configurations. It can also be used as an open space for rehearsals and workshops. It can accommodate up to 285 guests depending on the setup.
Specifications:
Seating capacity: 285
Kendall Drama Lab Lobby
Guest Box Office
4- Two Person Dressing Rooms